Trends in the camping world change every year in France, and the rest of Europe. New concepts are often introduced, with the main goal of meeting the needs and wishes of every guest, as well as taking nature and the camp sites themselves into account. The Vendée region, the number 1 touristic region of the French Atlantic coast and the 4th best tourist destination in France, is a perfect place for new concepts in camping to emerge, which is why camp sites in the Vendée often offer a broad variety of unique and nature friendly accommodations to choose from.
Glamping : Authenticity and luxury
A new concept, Glamping, mixes the camping life with a little bit of glamour. First seen in Great Britain in 2007 and afterwards expanded to France. These modern and unusual types of accommodation have recently gained a lot of attention of tourists all over Europe. Those looking for a unique stay could, for example, book a few nights in a floating hut, or a see-through bubble. For a slightly more traditional camping holiday there are also different types of furnished tents, designed in a Safari-style. As you can see there are plenty of opportunities and innovations for everyone who would like to add a bit of originality and that extra bit of comfort, on top of the regular camping experience.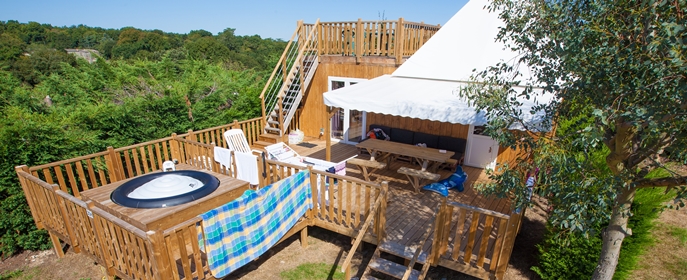 Glamping on Camping Village de la Guyonnière in the Vendée region
The 5-star campsite Village de la Guyonnière, situated in the Vendée region, has recently added a selection of unique and comfortable Glamping-accommodation to their offer of accommodations, so you can celebrate your holiday in the Vendée in full comfort. Situated at the banks of a big lake and surrounded by nature, our guests can enjoy a peaceful environment with their family and/or friends. The camp site Village de la Guyonnière has installed several types of furnished tents on the camp site, which are made out of environmentally friendly, all-natural materials. During their stay, our guets at La Guyonnière can enjoy several types of accommodations at different levels of comfort:
–          Woody Lodges These tents at Camping de la Guyonnière can accommodate up to 6 people and are completely furnished to your comfort, with high quality. The sanitary buildings are only several feet away at the Tournesol field!
–          Safari Lodge This tent is equiped with two bedrooms and can accommodate up to 6 people. Thanks to it's lovely terrace you can enjoy the pleasant climate of the Vendée to the fullest.
–           Safari Lodge VIP  This tent covers 64m2 and is equiped with a lovely mezzanine, which is why it can accommodate up to 8 people in an authentic and natural setting.
–          Family Zen This accommodation unifies comfort, luxury and nature and is guaranteed to offer you a stay full of relaxation with its jacuzzi, roof terrace and terrace of 37m2. This little home can accommodate up to 4 people.
As you can see : For a relaxed holiday in a comfortable accommodation, surrounded by nature, you won't have to wait any longer. You can come and visit us in Saint Julien des Landes, close to Saint Gilles Croix de Vie in the Vendée region anytime!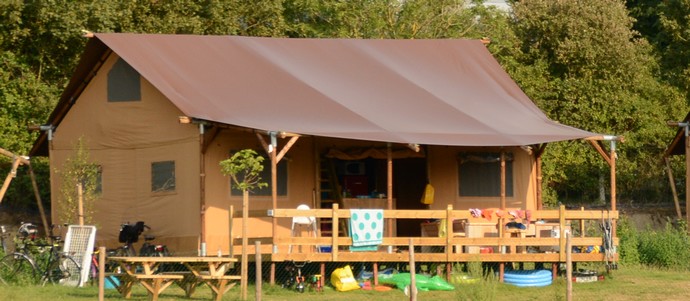 Tourism trends of 2016 in France
The consumption pattern of our current society changes every year and people are more and more on the look-out for quality products. The camping world is no exception, which is why more and more camp sites are adding changes to their original settings.
Since 1995, the number of camp sites in France has declined by 10% and currently there are 9332 camp sites to be found in the country. This decline, however, doesn't take away the fact that, out of all European countries, France has one of the most stable camping sectors (Second best in 2015). Because of the decline in camp sites, it is important that many and diverse investments are made to add new aspects to camp sites.
Today, holidaymakers are more and more searching for a comfortable and affordable way to spend their holidays. Which is why rental accommodations are gaining popularity over traditional camping pitches. This development has urged camp sites to add more and more unique and original types of accommodation to their offer: lodges, furnished tents, treehouses…
In France, an average camp site stay lasts 5,6 days. This average has however slightly declined in previous years, which we probably have the economic problems to thank for. However, there are also current developments that are in favor of the camping world, such as the internet. It has been proven that stays booked via the internet are on average longer than any stays booked in a different way.