The Glamping principle
Glamping is a new concept in camping tourism that has been introduced for the first time in 2007 in Great Britain. Nowadays, holiday-goers can opt for a quiet stay in nature, with all the comfort they need. Glamping, a contraction of "Glamour" and "Camping", offers you the possibility to leave behind the common inconveniences that come with traditional camping. You will no longer have sleepless nights on an uncomfortable air mattress, and won't lose so much time pitching your tent or caravan. Instead, you will receive luxury and comfort!
To join this adventure, many camp sites in France have already introduced the Glamping concept in previous years. Several different types of unique accommodation have been made available that are slightly more special and authentic than regular mobile homes or chalets. Why not sleep in a tipi, a yurt or a treehouse? There is something for everyone!
This way you can enjoy everything nature has to offer you, but in an atmosphere of luxury and comfort. A private jacuzzi, breakfast delivered every day at the accommodation… Enough advantages to enjoy during your Glamping-holiday!
In terms of eco-tourism, Glamping is also a great addition to the camp site. The accommodations are mostly made out of natural, recycled material. This eco-friendly way of producing is characteristic for this type of accommodation and is generally highly appreciated by our guests.
Glamping at Village de la Guyonnière
The 5-star camp site Village de la Guyonnière, situated in the Vendée region, offers several types of Glamping-accommodations. You can spend a few days on the camp site in the beautiful natural Vendée region with family or friends. Different types of accommodation are available, varying in capacity and level of comfort.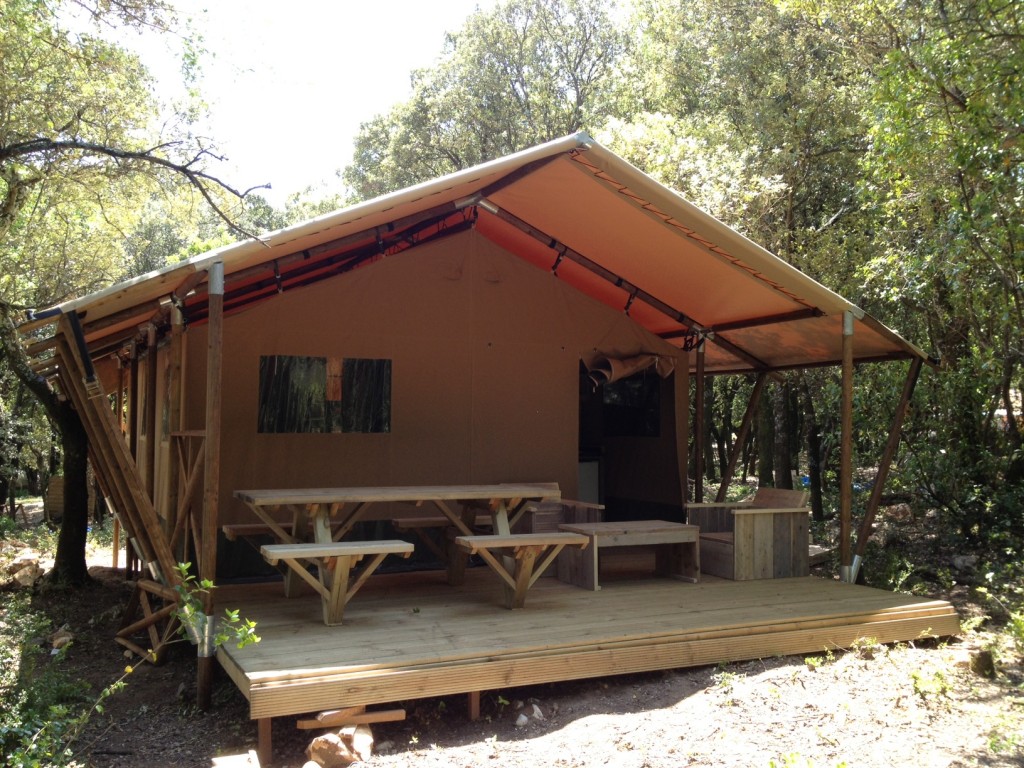 You could, for example, opt for one of our Lodge-tents, made of natural materials! Mainly consisting of wood and cotton, this is a perfect place to enjoy the surrounding nature from the spacious terras, with your loved ones. When you book one of the lodges, you will also receive some other priviledges, such as a free visit to our wellness centre, WiFi access, lots of space etc.
Discover our multiple Glamping-accommodations (http://www.camping-guyonniere.com/locations/glamping/) at camp site Village de la Guyonnière that are suitable for 2 up to 8 people. During your stay at camp site Village de la Guyonnière in the Vendée region, you will also be able to enjoy all of the services and activities (http://www.camping-guyonniere.com/activites/espace-aquatique/) the camping has to offer: water park, animation, wellness, petting zoo etc.